The Monrovia Rotary Club has inducted Fire Chief Brad Dover to membership.  Brad is being sponsored by Immediate Past President, Bill Shieff.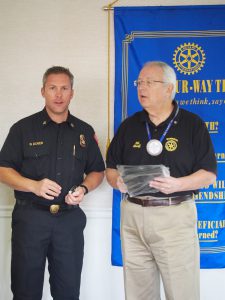 Brad Dover began volunteering for Monrovia Fire and Rescue in 1994 as a fire cadet. In 1998, he was hire full time as a firefighter. The following year, he was assigned as a firefighter/paramedic. In 2003, Brad was promoted to fire engineer, a position he still cherishes as one of his favorites. In 2006 he promoted to captain where he spent two years on an engine company. In 2008, he was reassigned as a captain on the ladder truck. He said that assignment is where he grew the most professionally and all of the pieces of incident management came together. In 2015, he promoted to division chief, where he managed day-to-day shift operations. He was also responsible for citywide emergency preparedness programs and department support services. Brad has a Bachelorette of Science degree from California State University, Long Beach. He has completed the California career track programs for Fire Officer and Chief Officer. He was fortunate enough to spend a number of years as part of a California USAR Task Force. Currently, Brad is attending the Executive Fire Officer Program at the National Fire Academy in Maryland. The graduate level program is designed for fire service leaders from around the country. Brad has been married to his wife Anne for the past 18 years, and has 13 year old twins, Blake and Ella. Away from work he loves camping, golfing and being involved in his children's sports programs. As a die-hard Green Bay Packers fan, he insisted on naming his dog Lambeau, after one of the Packer legends.
The Club is proud that a person such as Brad,  who has spent a lifetime in service to others, has chosen the Rotary Club as an avenue of service.