Nolan Shaheed is a modern Renaissance Man;  he is a successful jazz musician, who has performed with so many greats, a world class athlete who holds several world records in long distance running a motivational speaker and the long distance track coach at Monrovia High School.
It was the Club's pleasure to hear him speak at a recent meeting. He gave an inspiring talk about the difference between great and good and what it takes to get there.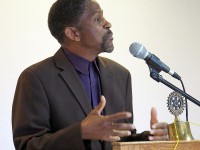 Nolan was musical director for Marvin Gaye, lead trumpet with Count Basie and has an extensive resume of other acts he has worked with including: Natalie Cole, Stevie Wonder, Diana Ross, Phil Collins, Anita Baker,[3] Carole King, Tom Waits, John Handy, David Byrne, Raymond Harry Brown, Freddie Hubbard and Niki Nana.[9][10]